The McDowell County School district has struggled with a shortage of teachers and low teacher retention rates. Most teachers reside outside of the County due to a dearth of housing options. Reconnecting McDowell seeks to address this through Renaissance Village, its housing project for teachers and other County residents. Following asbestos removal in May 2016, a demolition ceremony was held on June 9 for the Best Furniture building in Welch, which serves as Renaissance Village's building site. Construction began in Spring 2019.
This housing initiative will provide two floors of apartments along with two floors of commercial space. The residential units are a mix of one- and two- bedrooms and are now move-in ready. A one bedroom unit will rent for $625, and the two- bedroom units are priced at $825. To schedule a showing, call 304-344-2679 or 800-222-9838.
You may view photos of a model unit by clicking below: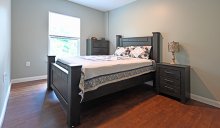 By providing moderately priced apartments for teachers and other professionals, as well as retail space that can be patronized by community residents, Reconnecting McDowell believes this project will spur and facilitate economic growth in the community. 

Watch this time-lapse video of the demolition of the old Best's furniture building, making way for the new Renaissance Village for teacher housing.