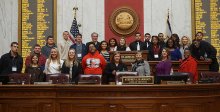 Broader Horizons is a five-year mentorship program generously funded by AT&T. Every year, counselors at River View and Mount View high schools in McDowell County select juniors to participate in the program. The goal is to pair mentors with students who are struggling academically; the students then engage with business, labor, government, education and social services leaders to learn about career and college options available to them through continued education. The students are taken on two weeklong trips to Charleston, W.Va., and Washington, D.C., where they tour college campuses, participate in job shadowing and leadership development training, as well as visit the state Legislature and meet with members of Congress.
Mentoring Requirements
If you are interested in becoming a mentor for the Reconnecting McDowell Broader Horizons project, please submit your name, résumé and/or bio and contact information to Leah Daughtry at ldaughtry@aft.org.
Mentors may reside or work anywhere in the U.S., but it is preferable that participants be based in West Virginia and, ideally, in McDowell County to facilitate as much communication and in-person interaction as possible.
Mentors must commit to participating for the program year, which runs from September to August.
Mentors must maintain a minimum of bi-weekly communication, which can be either in-person meetings or regularly scheduled online or telephone discussions.
Each mentor will be paired with one student. When possible, mentors and students are matched based on similar personal interests, career or college choices, and other criteria.
Mentors are encouraged but not required to participate in monthly activities that bring all the students together.

Possible activities include an orientation session, January public speaking training, and team-building exercises.
Mentors are free to lead some of these monthly activities, such as workplace skills, networking, résumé writing, college preparation, etc.
Some funds are available to defray mentors' travel costs to McDowell.

Mentors are also encouraged but not required to participate in two trips, one to Charleston, W.Va., and the second to Washington, D.C. During these trips, students participate in job shadowing at businesses, unions and other organizations, as well as visit local college campuses, the state Legislature and the U.S. Congress. Read about the mentees' most recent trip.